Gathering North notches up another success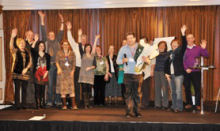 February 15 2011: The January 2011 Gathering continued the tradition of bringing top EFT presenters to the North of England.

Held at Craiglands Hotel, Ilkley, the event provided an opportunity for tappers from around the country to get together, network, share experiences, and hear some of the leading practitioners discuss their own work.

Now, thanks to EFT master and chief event organiser Gwyneth Moss, everyone can benefit from the knowledge that was shared that weekend. An audio file for each of the presentations is available to download, together with handout notes.

Among the speakers were:
Additional sessions on the Friday and Monday covered a further diverse range of topics:
"Thanks to everyone who helped make the event a success," says Gwyneth. "Especially John Bullough, who made and edited the audio recordings, the volunteers who helped organise the event, and of course our presenters who made it such a memorable occasion."

The next major Gathering event will be held in the Midlands on May 21-22, followed in October by the EFT Masterclass 2011 in York.