Get ready for Masterclass 2011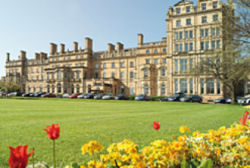 January 23 2011: Masterclass 2011, the UK's most prestigious EFT event, aims to build skill, confidence and success with the help of the UK Masters of Emotional Freedom Techniques.

The date and venue for the event, the sixth in the series, have been announced by organiser Gwyneth Moss. This year it will be held in the historical city of York, at the Royal York Hotel over the weekend of 22-23 October 2011.

Masterclass 2011 will showcase the expertise and experience of seven top EFT master trainers, including Gwyneth, Jaqui Crooks, Tania Prince, Sue Beer, Emma Roberts, Ann Ross and Judy Byrne, who will be sharing from their leading innovations and deep understandings from years of experience and development at the forefront of EFT.
Gwyneth is still finalising the event details as EmotionalBuzz went to press, but keep an eye on the event web page for further news and updates, which will also be reported in future issues of the EmotionalBuzz newsletter.

In related news, Gwyneth is among a wave of British EFT practitioners who are crossing the pond and teaching in the US.

Gwyneth is travelling to the Keystone Healing Centre in Chicago in to give EFT Level 1 & 2 workshops in April/May and again in September, while Jaqui Crooks will be at Fort Lee, New Jersey, presenting EFT Level 1 & 2 in February and April. In addition, Ann Ross will be teaching EFT in Boise, Idaho, in April/May.