Meridian energy therapy products
EmotionalBuzz brings the best in meridian energy therapy products to you. The range of products from leading meridian energy therapy practitioners includes DVDs, CDs, books and more. Get ready to take your next step in EFT!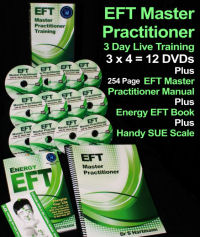 EFT Master Practitioner – 12 x DVD Set: The Most Advanced EFT Knowledge Available Today
In 2012 Dr Silvia Hartmann, PhD (chair of The AMT and author of Energy EFT) conducted a three-day EFT Master Practitioner live training near London. This event is now available as a 12-DVD box set, containing over eight hours of footage and includes all 12 units from the course.

This is the most advanced EFT training available so is only suitable for those who really want to push the boundaries of modern energy work utilising EFT. Beginners are advised first to purchase Dr Hartmann Energy EFT book or enrol on her EFT Master Practitioner home study course, which comes with the DVD set and includes full tutor support.

Level 1 - Basic Professional EFT
01: Teaching EFT – 45 minutes
02: Energy Body Stress – 42 minutes
03: The EFT Story – 35 minutes
04: The Professional & Ethical EFT Practitioner – 38 minutes
Level 2: Intermediate Professional EFT
05: Extremely Focused Treatments – 40 minutes
06: Working with Aspects – 29 minutes
07: Emotions – 49 minutes
08: Energy Body Events – 57 minutes
Level 3: Advanced Professional EFT
09: Mind Changes – 42 minutes
10: Energetic Relationships – 26 minutes
11: Autogenic Reality – 54 minutes
12: EFT Master Practitioner – 30 minutes
Total play time: 487 minutes – more than eight hours of concise, information–packed EFT instruction, tips and techniques for professional EFT practitioners.

This DVD set is available as a bundle with the extremely comprehensive EFT Master Practitioner Manual (table of contents), giving you a complete guide to working, plus additional background information, further techniques and additional exercises.

Choose from two packages:

Energy EFT (Book & Video)(Paperback) + Energy EFT Bookmark (Bookmark) + EFT Master Practitioner - Printed Manual (Spiral Bound) + EFT Master Practitioner - 12 x DVD Set (Video DVD) for just £131.99 (a saving of £65.01 off the regular price) (postage extra)
or
AMT EFT Master Practitioner Course DL (eCourse + Tutor Support) + EFT Master Practitioner - 12 x DVD Set (Video DVD) for just £277.60 (a saving of £69.40 off the regular price) (postage extra).
Meta-Healing Process DVD Home Study Level 1 with Richard Flook – DVD set
Learn the basics of the Meta-Healing process using Meta-Medicine, alternative, complementary and integrative therapies with Master Meta-Medicine trainer and health coach Richard Flook's Level 1 video series. Developed exclusively by Richard the Meta-Healing Process combines more than 20 years of research into Meta-Medicine, integrative, alternative and complementary therapies, together with Richard's experience with clients, therapists and health professionals worldwide. Recent discoveries have shown how serious emotional shocks are lodged in our brain and body. We also know the heart is massively involved in this process, picking up and transmitting information through our body and the outside world, and affecting how we interact with other people and the environment. Richard's unique process assists you and your clients in healing, and works seamlessly with other alternative therapies. The Meta-Healing Process combines how the mind, body, spirit, social and environmental connections can all act as one to heal. The beauty of this process is you can use it with any other therapeutic modality with lightning speed. It does not replace what you already know, but adds to it and makes your work even more effective. DVD investment $247.00 CAD. ORDER YOUR COPY OF THE META-HEALING PROCESS TODAY!
Meta-Medicine Home Study Pack Part A – 10 Models
Home Pack Study A
Part 1 of 2 of the Meta-Medicine® Home Study Pack for Certification Course. This study pack comes with 20 CDs of mp3 audios and a manual introducing you to the world of Meta-Medicine and is a prerequisite to the Certification Programme online. Also available to download. Imagine learning the major principles behind Meta-Medicine in the comfort of your home. Now you can with this comprehensive CD pack. Recorded live on part A of a Meta-Medicine certication course, the pack takes you where the introductory home study pack left off, into each one of the 10 Meta-Medicine Models by Johannes Fisslinger, President of the International Meta-Medicine Association. Johannes takes you through each one of the 10 Meta-Medicine models, how they each work and their application in real life. He also gives live demonstrations and goes through case studies. Also included is Meta-Medicine trainer Susanne Billander, who explains how recent scientific discoveries confirm that Meta-Medicine is focused on the right path with regards to healing. CD pack investment is $347 CAD. Find out more about Home Study Pack A, and order your CD pack now.
META Medicine Made Easy: Why Am I Sick? META Medicine Courses

Register now for Richard Flook's META Medicine Made Easy, META Medicine Certification or META Medicine Masters Certification online learning programme.

The course costs just $27 per month, but savings can be had by registering for six months ($135, saving $27), or one year ($270, saving $54).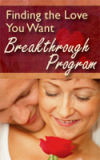 Finding the Love You Want – EFT Breakthrough Programme
Have you been repeatedly attracting Mr or Ms Wrongs? Have you been sabotaging yourself when meeting and dating interesting people? Have you been frustrated in an endless search for healthy love?

This powerful EFT audio programme by EFT Expert and Love Coach, Stefan Gonick, will help you discover your blocks to finding love and use EFT to blast through them once and for all.

You will end up with an open and free heart, able to be your authentic self, and finally attract the love of your dreams!



Full programme cost is $197, but EmotionalBuzz readers can take advantage of this special offer and save $25! Simply enter coupon code LOVE25OFF at the checkout.

Find out more now!

EFT for the Prevention of Serious Diseases
Six-disc DVD set from EFT master Karl Dawson provides a comprehensive resource for using EFT to treat and prevent serious physical and psychological illness. More, with video clip »

Meta-Medicine and Matrix Reimprinting
Learn the causes behind diseases and how to use EFT to get resolution and help you and your clients. More »

Meta-medicine from Richard Flook
What causes pain, ailments, diseases and cancers? Richard Flook has the answers. Find out more about this intriguing and important field through interviews with Richard, consultations, and his book, 'Why am I sick?'

Attracting abundance with Carol Look
There's no better teacher of attracting abundance than the dynamic Carol Look. Now you can find out for yourself with Carol's range of books, DVDs and CDs on attracting abundance, and so much more.