How to advertise your workshop or product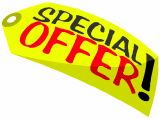 EmotionalBuzz gives you the best possible value. By placing your advert early, you give visitors more chance of seeing it and you also benefit from lower monthly fees. Not only that, your advert will also feature in each issue of EmotionalBuzz newsletter, which will be sent to everyone who has registered to receive it, that appears while your your advert runs. And if you'd like to promote more than one course or product, you get better value the more you advertise.
EmotionalBuzz advertising rates
Months
Number of adverts
1
2
3
4
5
+
1
£20
£30
£40
£50
£60
*
2
£30
£40
£50
£60
£70
*
3
£40
£50
£60
£70
£80
*
4
£50
£60
£70
£80
£90
*
5
£60
£70
£80
£90
£100
*
6
£70
£80
£90
£100
£110
*
Simply decide how many courses you wish to advertise and for how long. Part months less than 15 days are free. For more than five courses, or longer than six months, contact EmotionalBuzz to discuss details.

Then complete the product or workshop advert form, clearly stating the name of your workshop, where you're holding it and when, submit it, and let EmotionalBuzz do the rest! Don't forget to provide a brief description and attach a picture if you have one. And remember – the longer you advertise your training or workshop, the better value you get!

If you'd like to advertise a product such as a book or other lower value item, why not take out an advert for an entire year? Just £50 secures your yearly advert!
Book your first advert now, and receive the EmotionalBuzz introductory offer of £20 off. This applies whether you place a single advert for one month, or five adverts for six months. Simply subtract £20 from the values shown here. When you come to place your advert you'll have the option of selecting the correct payment plan for your circumstances.

Got a links page? Add a link to EmotionalBuzz.com and knock another £5 off your next workshop or product advert! Simply add the URL to your regular code, or copy all the code in the box below and place it on your links page.
<a href="http://emotionalbuzz.com/" target="_blank"><img src="http://www.emotionalbuzz.com/img/emobuzzlogo01.jpg" alt="visit EmotionalBuzz" width="357" height="115" border="0" /></a>