24 and counting for EFT in One Page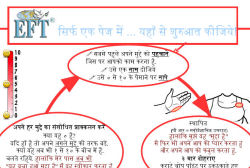 April 23 2012: The handy one-page reminder of the EFT tapping process, created by EFT practitioner Christine Disant, is finding appeal even further around the world and has been produced in 24 different languages.

Available in PDF file form, EFT in One Page provides a general EFT protocol as a circular flow chart. It asks users to identify the issue they wish to work on, offers set-up statements, reminds them to use shortcuts or the full basic recipe, and rate/re-rate their issue before beginning the process again.

The guides are also available on the EFT Universe website together with manuals and EFT Jump Start presentations in up to 26 languages so far.

Read more about Christine's decision to provide the guide in as many different languages as possible.