Single page EFT goes multilingual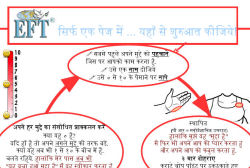 January 26 2011: A handy one-page reminder of the EFT tapping process that has been created by EFT practitioner Christine Disant is now available in 16 different languages.

EFT in One Page is in PDF form and provides a general EFT protocol as a circular flow chart. It asks users to identify the issue they wish to work on, offers set-up statements, reminds them to use shortcuts or the full basic recipe, and rate/re-rate their issue before beginning the process again.

Why did Christine embark on this project and create and expand the guide? "I was looking for a teaching aid for EFT, but couldn't find one that I found satisfactory. I have found some others since, but mine works for me.

"I've found it very useful for emailing to clients before working with them via the phone or on the internet," she says.

"I also use it with face to face clients on their first session."
The growth of the page was a gradual process, as Christine explains: "I translated it into French first as I needed it in both languages, then another practitioner David McKay found out about it and provided the translation for the Spanish version. It has grown from there."

Progress on the guide took off after it appeared on the EFT Universe website, with a note inviting translations to other languages. "Requests for the next ten languages just flew in," Christine says. "I never imagined my page going as far as India or Brazil!"

EFT in One Page is currently available in 16 languages, including Brazilian, Czech, Danish, Dutch, English, French, German, Hindi, Hungarian, Italian, Norwegian, Persian, Russian, Slovenian, Spanish and Swedish. Christine is working on and hopes shortly to produce versions in Afrikaans, Finnish and Latvian.

All of the translations can be downloaded from Christine's website, which she has recently updated to be bilingual English/French.

Christine is encouraging other practitioners to help expand the scope of languages covered. A blank template in OpenOffice (odt), JPG or PDF format is available to download from her site. Simply fill in the blanks and return it to Christine, who will resize the graphics to fit, if necessary.