Holistic cancer support event a success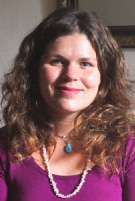 June 24 2010: The Holistic Cancer Support Group's first full workshop in May proved a great success, attracting more than 30 attendees from a wide range of both conventional and complementary therapies, as well as cancer patients and cancer carers and therapists.

The group's aim is to bring together meridian energy and conventional therapies and provide a source of information and help for those with cancer or those working with patients with serious diseases including cancer (see article in EmotionalBuzz).

During the two-day weekend workshop, held at Ilkley, North Yorkshire, teaching and practical sessions covered a wide range of energy therapies, nutrition, and caring for cancer patients. Feedback from the attendees has allowed the group to formulate a format for future workshops.
"The main problem was that the weekend was not long enough to cover all the subjects we wanted," says Tam. "So we have decided in future to split the workshop into several parts so we can go deeper into the subjects already covered and introduce some of the areas of interest requested by attendees in the May workshop."

The group is planning three workshops for this October, focusing on Energy Therapy and Nutrition, Energy Therapy and Cancer Support.

Led by Dr Kate James, the the Holistic Health Support Group represents a wide range of complementary therapies. It provides a free listing of therapists of any discipline who are practiced in the use of holistic treatment for patients with cancer, and have completed Parts 1 and 2 Cancer Support Workshops (with case studies). The group also offers a listing service for practitioners with special interest and skills to support those with cancer.