Fifth European EFT and Energy Conference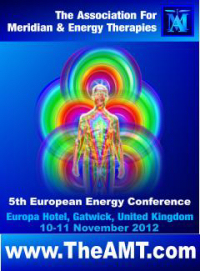 October 31, 2012: Following on from its successful 2011 conference, AMT is calling all energists to gather and hear about the latest innovations, techniques and ideas at the cutting edge of the energy field.

Once again, the organisers have arranged a programme featuring internationally renowned trainers at the top of their game.

The conference also offers an important opportunity for energy therapists to stay connected with colleagues in the field, catch up with friends, make new connections and become energised and refreshed.

The event costs £249, and there is also a full programme of personal one-to-one sessions with Dr Silvia Hartmann, Sam Cox Thorpe, Jim Petruzzi and many more.
In addition there are several post conference trainings, including AMT Trainers Training with Sandra Hillawi, Biofield Imaging and Assessment Certification with Dr Thornton Streeter, and Matrix Reimprinting Practitioner Training with EFT master Karl Dawson.

The 2012 EFT & Energy Conference is being held at the Europa Hotel, London Gatwick on November 10 and 11. See the full schedule and line up of internationally renowned trainers.

For further information and to register, visit the AMT conference website.