New keynote speaker at AMT Conference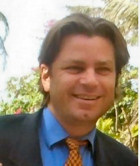 August 29 2011: A brand new key-note presentation has been added to the 2011 EFT & Energy Psychology Conference, replacing Mark Atkinson who has withdrawn because of family commitments.

Dr Thornton Streeter is an official representative for AISBBS to the United Nations (ECOSOC) and special Advisor to the ICNM, the UK's leading authority on complementary and natural medicine. He is director of the Centre for Biofield Sciences.

Dr Streeter will be presenting Polycontrast Interference Photography (PIP) along with Dr Silvia Hartmann, who will be assisting by holding an EmoTrance session.

PIP is a ground breaking method of recording the energy field of a person. The PIP machine is a non-invasive, light analysis technology. It requires bare skin to be exposed to a full-spectrum controlled lighting environment. The absorption and reflection intensities of light off the skin are colour coded and then analysed. The PIP is most useful when analysing the body itself for congestions that appear on the surface above the specific organ or part of the body being investigated.
Dr Streeter attended the AMT Oxford conference in 2002, where he showed guests live pictures of their energy fields in colour. He reports that he has made massive improvements to the technology in the intervening years.

The AMT conference takes place on November 12-13 at the Europa Hotel, London Gatwick. It includes a full programme of pre and post event workshops, and is open to everyone. CPD credits are available for most organisations.

For further information and to register, visit the AMT conference website.