Matrix Convention speaker on Kindred Spirit shortlist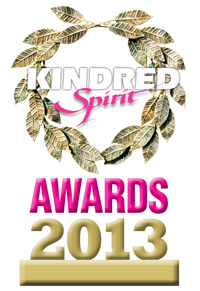 November 28 2012: Lynne McTaggart, the lead speaker at the first international Matrix Reimprinting Convention, is among the nominees for the Kindred Spirit Awards 2013.

Best-selling author, researcher and lecturer, Lynne has been researching medicine and its shortcomings. Her work has been described as 'a bridge between science and spirituality'. She joins other distinguished authors including Paulo Coelho and Ken Wilbur on the shortlist for the spiritual writer award.

"Thrilled to hear that I've been nominated for Kindred Spirit's 2013 spiritual writer award for 2013," Lynn tweeted on hearing the news.

Kindred Spirit recognises and honours special people in the spiritual communities, from writers to artists, and from innovative thinkers to therapists and shamans. It has just announced its nominations for the all-new Kindred Spirit awards, which "provide an opportunity to celebrate those people who make a difference to our lives".

Kindred Spirit is inviting further nominations, or support for existing nominees. Nominations are open from now until March 31, 2013, and the award winners will be announced at the end of May.

Matrix Reimprinting Convention, being held at the Thistle Brighton Hotel, Brighton, from 1-3, February 2013, brings together some of the world's most highly regarded authors and presenters from a range of energy modalities to discuss their work in an open arena.

The event kicks off on Friday February 1, from 6.30-9.30pm, with a free introduction to EFT and Matrix Reimprinting by Karl Dawson, EFT master and creator of Matrix Reimprinting. This will be tailored for all those new to these powerful therapies.

For further information about the speakers or to register, visit the Matrix Reimprinting Convention web page.