AMT Conference 2011 – Silvia Hartmann's view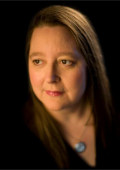 November 28 2011: The AMT Conference took place in mid-November at the Europa Hotel, Gatwick, and drew enthusiastic attendees from around the world. In this exclusive interview Dr Silvia Hartmann, AMT chairperson and author of Easy EFT as well as many other reference works on EFT, talks to EmotionalBuzz about her experiences of the event and future plans.


SH: My main objective has been and always will be energy awareness. Energy work is the missing X Factor in just about every human equation, without exception, from personal relationships to how people wage wars, conduct commerce, use their creativity – in effect, everything from the cradle to the grave. What has happened over the past two thousand years or so is that the teachings about energy have run out of sync with the way people think and speak; and our modern generations have to re-discover energy work for themselves afresh, re-define it in terms that we can understand, and put energy back into our daily lives in practical and proactive ways.

In this context, I do feel the time is now right for modern energists to stop being ashamed of what they're doing, trying to justify themselves in various ways, and instead, coming out of the energy closet and letting people know that when they do EFT, for example, they're not doing some form of psychoanalysis but instead, modern energy work.

In The AMT we now have a learned society, which is the first step on the road to obtaining a Royal Charter, the first for our field in modern times. We are a new scientific field with methods, techniques, instruments and approaches that are unique to energy work. To understand that and to be proud of it is a pre-requisite to being able to stand up both to sceptics and detractors, as well as to present a cohesive and honest field to the public at large.

The field of modern energy work is tremendously exciting and it is the practitioners and trainers in the field who go out and pass this message on to the general public. "Energy Pride" was the theme of the conference in that context.
I would say it greatly exceeded my expectations. The time must be right for this as the delegates were very enthusiastic indeed, and the atmosphere was amazing throughout.

There is such power and joy in energy work. If we remember this, and we did at this conference, personally and together, then we can have wonderful exchanges, experiences and come away thoroughly energised and inspired from such an event.
One of the very first things on Saturday morning, I asked the participants to turn to each other, hold out their hand and say, "Hi, my name is (their own name) and I'm an energist!"

I had planned this as a personal introduction to the topic of "energy pride" which was what my keynote speech was about, but I was really amazed what happened. This was more than an ice-breaker. It was like the hall exploded instantly into movement and excitement, there was our common ground and that was an amazing experience.

It set the tone for the whole conference and we never looked back. We should start every meeting of energists in that way!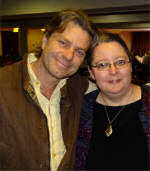 Keynote presenters Dr Thornton Streeter and Dr Silvia Hartmann
There were a great many things that were wonderful about the conference, especially the unusual chance to sit in the garden in the sunshine and talk face to face with the other presenters and originators. Our kind rarely gets together but when we do, fascinating exchanges happen.

If I had to choose one more personal highlight, during the EFT training a participant approached me in the break, upset because they had received a text message about their young child who had been taken ill. The whole group came together and tapped for the child; and this is once again one of those moments where it didn't matter where you came from or who you were: if you were an energist and your heart was in the right place, you were the same and with others who also want to make the world a better place, help others feel better, give service, and have found a way through modern energy work to do just that. A very moving experience indeed.
Yes, I'd certainly say we were surprised by the enthusiastic response right from the start. We had over 70 proposals for conference presentations, and the tickets were sold out months before the event. My new EFT training was sold out, too.

There was clearly enthusiasm before the conference; but at the conference, there was such a lot of goodwill and you really could feel that everyone who was there really, really wants energy work to take its rightful place in the care of the citizen, and move it forward, full steam ahead.

I think this has to do with the fact that our modern energy techniques have proven themselves in the field, every day, for over a decade now. We – the pioneers of the field – are convinced now. We are fully satisfied that what we do works, it has merit, it is sorely needed and it is a real contribution on every level imaginable.

It felt like everyone was ready and willing for the next step.
Yes! We've had some lovely feedback, individually, for the organising staff, for and from the presenters across the board. I think we can safely say that everyone who attended in person took away many, many interesting experiences, met many wonderful people and took home not only their conference manual but also inspiring new energy forms in their systems!
I think globally it was the energy and effort put in by everyone concerned. The presenters who are not just standing there and talking, but who are clearly living what they do and walk their talk. The organisation was praised highly, and that is due to Alex Kent and his team also throwing themselves into the task way beyond the call of duty. The hotel staff worked extra hard to make sure the delegates would have a good experience. And not to be underestimated, the delegates themselves really immersing themselves in the event, not holding back in the lectures and exercises, open and willing to learn, to help, to participate.

Well, our field is about energy, about dropping shields, about giving and receiving above and beyond the material, so it stands to reason if you think about it!

Still, it makes for an extra good experience all around.
I am particularly looking forward to the annual EmoTrance conference next year on April 21/22. EmoTrance is pure modern energy work, no holds barred as it were, and the conference is for delegates who are practitioners and above, so we get to do some wonderful and advanced energy work in those two days.

I hold an "energy lab" on the Friday before, where advanced practitioners, trainers and I just play the whole day long and develop techniques and patterns that no-one in the world or even in history has ever done before. That's my personal favourite.

I'm finishing the new book on EFT to replace the old Adventures In EFT in the meantime; and I'm also looking forward to a weekend training with Dr Thornton Streeter, who absolutely won the hearts of the conference delegates with his life long dedication to modern energy work and Biofield imaging. This will be held on April 7/8 at the Europa Gatwick as well and I look forward to getting lots of scans done and learning more about the process; I'm interested in using the technology to making mind changes visible, particularly in the context of meditative and trance states and their effects on the energy system.
The AMT is now a learned society. We have our conference, journal and membership; particularly our trainers who are the heart of the AMT. We are going to continue to grow our membership of energists over the next few years, support them as much as we can to help them do their work, be that helping people as practitioners, training new practitioners, or special projects such as getting EFT into schools, for example.

We will continue to evolve new methods, approaches and instruments for our Third Field of energy work, and add more trainings to our four faculties as time goes by. This is the path that is taken in the UK to be able to have recognised universities, which is the long term goal of The AMT.

In the meantime, we strongly encourage all our members to study as many of the modern energy approaches as they become available, and actively take part through publishing case stories, articles and contributing experiences and special projects. This is a field in its infancy and we are the pioneers; we need to share our experiences so we can all learn more about our wonderful new field that is unfolding before us.
(Laughs) I do prefer the term energist – it's a joy to "work" with energy, it's a privilege, really not work at all!

I want our energists to stand proudly side by side with their peers from the other two fields of human service in the mind, body, spirit triad; to do good science, to be proud of what they do, and to always remember that we are truly blessed to be around at this time.

Modern energy work is as different from traditional energy work as modern medicine is from traditional medicine; or modern pharmacology is from traditional herbal treatments. It's a great chance for us as individuals to assess what works and what does not, and what we want to leave as a legacy for our children and grandchildren.

Modern energy modalities have shown us that we can seriously improve on our performance, creativity, relationships, and how much joy we can find in life. And we're still only right at the very beginning – exciting, exciting, exciting!

Dr Silvia Hartmann
Chairman, The AMT