Get on your marks for Gathering North 2012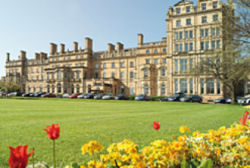 October 28 2011: Olympics year kicks off in style with the EFT Gathering North, which takes place in York on January 28 and 29.

A full programme has already been put together for the main two-day event, as well as two days of additional workshops on Friday and Monday, which can be booked at an extra £65 each.

Highlights on Saturday 28 include presentations by Maureen Fearon, Emma Bailey, Marcia Fletcher, Megan Smith, Jacqueline Seddon and Jenny Gilmore.

Meanwhile On Sunday 29 you can hear Jessica Mór, George Brooks, Annie Kaszina, Aryanne Oade, Brian Snellgrove and Joe Potter.
Each day includes a group mentoring session.

"The EFT Gathering is an inspiring weekend for the European EFT tapping community," says event organiser and EFT master Gwyneth Moss.

"We've also arranged whole day specialist workshops on Friday and Monday either side.

"Attendees can come and enjoy presentations, demonstrations, network, tap, share ideas and make new friends.

"There is always a magical, uplifting atmosphere of enthusiasm and a strong sense of community spirit whenever tappers get together."

The 2012 Gathering is to be staged in the events centre of the Royal York Hotel. The fee is £125 for the weekend or £65 for one day. Visit the events website and register before the end of October 2011 to benefit from the discount rate of £100.