New Matrix book a hit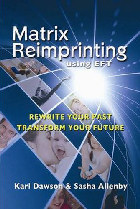 October 28 2009: Matrix Reimprinting: Using EFT, a new title recently produced by EFT master Karl Dawson together with Sasha Allenby, is winning support from those interested in finding out more about this new development in EFT and its applications.


Now available for immediate delivery, the book is selling by the hundreds and generating some very positive feedback.

One happy customer, Julia based in the US, said: "I devoured the whole book over the weekend, and I LOVE it!
"You both did an amazing job. I learned so many new things to add to my understanding and integration of energy psychology, with a few ideas completely changing my reality of the interplay between healing and consciousness. The Matric Reimprinting protocols were equally as amazing.

"I have already started doing some of the protocols on myself for small 'T' issues. I will post a review on Amazon today as this book is going to play a big part in changing the face of the evolution of world healing and consciousness."

Visit http://www.matrixreimprintingbook.com for more information and reviews from Matrix Reimprinting practitioners and trainers, and to order your copy now.