First Matrix Reimprinting Convention a success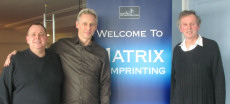 February 28 2013: The first ever international Matrix Reimprinting Convention, held in Brighton at the beginning of February, turned out to be an unqualified success.

More than 170 visitors from around 16 countries, including Canada, US, Israel, Germany, Spain and Australia gathered to hear a unique line up of international speakers over the two days.

So popular was the event that the free introductory session given by Karl Dawson on the Friday evening before the Convention attracted more than 100 people.

The speakers included Dr Rupert Sheldrake, Dr David Hamilton, Arielle Essex, Rob Van Overbruggen, Lynne McTaggart, Bryan Hubbard, Donna Bach and Gary Groesbeck and Karl Dawson.

One attendee, Susie Shelmerdine, commented about the Convention on Facebook, and posted several of the photos she took.

"What an amazing weekend at the first Matrix Reimprinting conference in Brighton," she wrote. "So wonderful to catch up with old friends and to meet some new ones, too!"

Susie said that "Rob Van Overbruggen gave us a wonderful talk on using Meta Medicine with Matrix Reimprinting".

"Donna Bach and Gary Groesbeck explained what the EEG machine shows when we are in the different brain states," and as part of that session, "fabulous compere and organiser Ted Wilmont and Sam Thorpe demonstrated how an EEG machine shows the effects of a Matrix Reimprinting session."

Susie added that Lynne McTaggart's talk on day one was "fabulous" and that Arielle Essex was "inspiring".

But for her the highlight was "David Hamilton who brought us to tears of laughter in his brilliant talk that was the event finale. Amazing information on how the mind can heal the body from the former biological chemist."

Dr Hamilton was also a high point for organiser Karl Dawson.

"The energy in the room was wonderful, when Dr David Hamilton walked in to do his talk on Sunday afternoon," Karl said. "He commented on the electric atmosphere, I think this was what inspired him to give such an amazing performance, yes some great info which tied in beautifully with the Matrix Reimprinting ethos – the man is a natural born comic and had us all in tears of laughter."

Convention organiser Ted Wilmont thanked everyone who presented at and attended the event.

"We were bowled over by the amazing response to the Convention," he said. "A huge thank you to our speakers, who were all on great form, and thanka also for the very positive feedback that we have received from them and the attendees which will be instrumental in the planning of our next event."

All the presentations were recorded and video clips are now being prepared. These will be available at the Matrix Reimprinting website as they are ready. Dr Rupert Sheldrake's presentation is already available to download (NB: clips are only available to qualified Matrix Reimprinting practitioners and trainers who have registered on the Matrix Reimprinting site).