Fifth annual Tapping World Summit just days away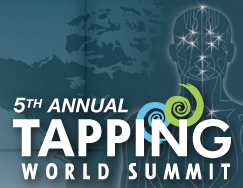 January 28 2013: The fifth annual Tapping World Summit gets under way in just a few days.

In the run up to the Summit, which starts on February 4 and is anticipated to attract more than 400,000 participants, the pre-event video series has been generating lots of discussion and interest.

Featuring Louise Hay, Dr Mark Hyman and Nick Ortner, the videos are being made available for viewing or download as a special bonus for anyone upgrading to the special gold or platinum access before the event begins.

In the first video, best-selling author of Heal Your Life Louise Hay speaks with Nick Ortner about how to use both tapping and affirmations for your Inner Work to create the life you want today.

The second video shows five-times NY Times best-selling author of The Blood Sugar Solution Dr Mark Hyman as he explains how to use EFT otherwise to release past traumas and eliminate chronic stress from your life.

In the third of the pre-event videos, EFT expert Nick Ortner, producer of the documentary film The Tapping Solution and The Tapping World Summits, as he speaks with Jessica Ortner, the host of the event, on the specifics of how to Tap, why it works so well, the research behind the technique, what you can use it for today, and what you can expect in this year's event.
The event is 100% free to attend during the 10 days of the event. Those wishing to upgrade and own the recordings for themselves, or the companion workbook and any of the regular audio bonuses as well as the pre-event video bonuses as outlined above, will be given the opportunity to purchase gold access (all-digital download) or platinum access (printed workbook and 23 CDs mailed directly).

However, the special pre-event bonuses disappear and will no longer be available on February 4 at 8pm EST when the event starts.

These videos include more than eight hours of video with Nick Ortner, Kris Carr, Louise Hay, Dr Mark Hyman, Jack Canfield, Bob Proctor, Bruce Lipton, Cheryl Richardson, Joe Vitale, Dr Joseph Mercola, Carol Look, Patricia Carrington, Carol Tuttle and Dawson Church.

They're all extremely powerful videos that are worth watching. And since there's a 90-day money-back guarantee, there is zero risk involved in upgrading right now.