Volunteers learn EFT to counsel massacre victims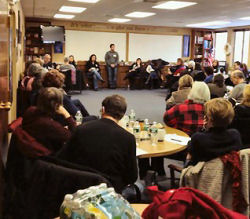 January 28 2013: EFT practitioners have been at the forefront of addressing the emotional aftermath of the gun massacre in Connecticut just over a month ago.

About 40 volunteers turned up as part of the relief effort to help the community. The training they received is part of the Tapping Solution for Newtown: Stress and Trauma Relief Project that was launched by the Ortner family, who live in Newtown.

During the outrage, 20 children and six adults were shot and killed by a gunman who broke into Sandy Hook Elementary School in Newtown.

The project has already worked with genocide victims in Rwanda, and the organisers are developing a process to help even more people in the Newtown community.

The day-long training event brought together organisers and EFT practitioners who have ties to the tragedy or live within driving distance of Newtown.