EFT could combat the 'yips'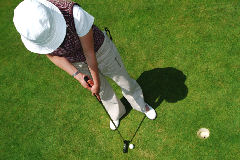 March 27 2012: Do you suffer, or know someone who suffers, from the 'yips'?

The yips are defined as a nervous twitching or tension that destroys concentration and spoils performance.

According to an article in a recent issue of London's Metro, a major free newspaper, the condition is often associated with ageing amateur golfers, but can also affect sports people including Olympic and even world champions.

In the article, which talks to various sports stars who have experienced the yips, they describe the impact of the condition. One Australian pole-vaulter says: "To be at your best, your mind must be clear. If you have numerous calculations going through your head on the runway and through the take-off, it just doesn't happen. Sometimes I run in and I don't take off."

"The confidence I require to stand at the end of the runway and then charge down, land my pole and soar almost six metres into the air has left me for the time being."

According to the article, other noteworthy sufferers include darts player Eric Bristow, snooker's Stephen Hendry and golfer Bernhard Langer. Even dentists, surgeons and singers have experienced it.

A Sheffield-based sports psychologist, Dr Mike Rotheram, specialises in studying the condition and has written a number of studies on it. He says that it manifests itself physically "but we believe it's formed psychologically."

"People panic or they feel trapped inside this process, then they'll start thinking, overthinking, analysing, thinking some more – just heightening the experience. The typical things people talk about are that it's like a hesitation, a mental hesitation as they're trying to execute the skill. Your brain is just telling you that it's a dangerous situation. When the golfer is going through the putt, it's not a smooth putt, it's very jerky.

"The brain irrationally is saying that it is more important than it actually is. The brain has just coded it and said, 'This is life or death', when in reality it's not."

Dr Rotheram, who is also the psychologist for both the Great Britain short track speed skating team and the England netball team, continues: "From an anecdotal point of view, we think it's caused by emotional psychological factors or significant life events which cause pain and go on to be triggered by the natural environment.

"Usually, what you'll find is that during a period when the yips have started, there are psychological traces of emotional disturbances, triggered when the yips first come about."

The search for a cure goes on. However, there may be hope – with EFT. The article reports that Dr Rotheram has been very impressed with the impact of Emotional Freedom Techniques, which it describes as a 'psychological version of acupuncture' which releases the energy blockages that often cause negative emotions.

It adds that Dr Rotheram is hoping to develop his own version of the process.