Jade's Cambodian connection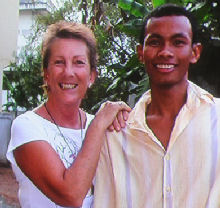 March 27 2012: A chance encounter in a Cambodian orphanage has resulted in the sponsorship of a Cambodian child who is now well on his way to fulfilling his childhood ambition to become a doctor.

Jade Wallace, an EFT practitioner based in Shoreham, West Sussex, met 17-year-old Hang Hun back in 2004 at the Siem Reap orphanage, where she had been asked to run an EFT workshop for the staff, via interpreters.

"The issues I was dealing with included fear of ghosts and tiredness," she says. "They took to it well and enjoyed tapping. It's strange to think that I introduced EFT to Cambodia!"

Hun had been at the orphanage since the age of eight, even though his mother was still alive. "He had been to junior school, and the teachers had said he should be educated because he was so clever," Jade explains. "His mother said no – she wanted him to work on the small bit of land they had. But she agreed to hand him into the care of local monks at the orphanage, who would continue his schooling free of charge."

During Jade's visit, Hang appeared. "He was tall and lanky, and after just two minutes chatting with him I felt I had known him all my life.

"He said he had wanted to be a doctor since the age of five. I just said 'let's do it'. I knew straight away that I had to help him."

"Without a sponsor, he would have become a tuk tuk driver or a waiter and wouldn't have fulfilled his ambition."

Jade sends about £3,000 a year to Hun, who is studying in the Cambodian capital, Phnom Penh. She collects the money through fund-raising, and her earnings from EFT.

Hun is now into his sixth year of studies and still has three years of medical training to go. "He has passed everything so far," Jade says. "He wants to go into paediatrics, because of his past. He was always so good with the younger children at the orphanage.

"He is doing as much for me as I am for him. I have an awful lot of energy, and it needs to be channelled – this gives me a purpose and keeps me working!"

Jade is now planning a trip to visit Hun in 2013.