Masterclass 2011 presenters speak out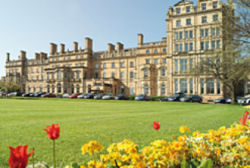 May 26 2011: Visit the 2011 EFT Masterclass website for some great free audio downloads by the top EFT practitioners attending.

They include three downloads from Emma Roberts, who will be delivering her presentation on The Wisdom of the Body at the event being held at Royal York Hotel over the weekend of 22-23 October 2011.

Emma's audio downloads, EFT for Cancer Support, EFT and Fertility Issues and How to Heal Emotional Patterns reflect her keen interest in this fleld.

"My greatest wish is to see EFT tapping and other energy psychologies fully integrated and accepted within the medical field as a powerful additional healing aid," says Emma, whose work with cancer patients and those with fertility issues is bringing her dream closer to fruition through her collaboration with mainstream health practitioners who embrace EFT as a valuable adjunct to their practices.
Further audio downloads featuring event organiser Gwyneth Moss that cover a range of subjects are also available, including what EFT is and isn't, the neuroscience of being specific and how to be effective with EFT, what is surrogate tapping and how we are all connected.

As well as Emma and Gwyneth, Masterclass 2011 will also showcase the expertise and experience of top EFT master trainers Jaqui Crooks, Tania Prince, Sue Beer, Ann Ross and Judy Byrne.

Following feedback from delegates at last year's event who found it difficult to choose between the breakout sessions on offer, all the sessions for Masterclass 2011 will be on the main stage, and there will be an opportunity to meet the presenters at the free Saturday Night mingle with music.

To find out more, visit the event website and look out for further news in EmotionalBuzz.