Pressures of fame lead fighter to EFT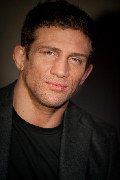 February 25 2010: Alex Reid, the cage fighter who recently married celeb supermum Katie Price, has joined the throng of famous faces reaching for emotional freedom technique to put their lives back on track.

According to the story, which surfaced in the gossip magazines and their online counterparts (Now, STV Entertainment, Celebtimes.co.uk) around mid February, Reid turned to EFT to help him 'deal with the pressure of his new life in the spotlight'.

Quoting his mum, Carol, the reports refer to the therapist Reid has turned to as an EFT specialist, and 'his mind man'. EFT practitioner Judy Byrne is also quoted, describing how EFT works in this type of situation.
Being married to a high profile such as Katie Price and coping with the media attention and attendant pressure is going to put EFT to the test, but Judy explains how Reid can self help by learning the technique and using it as the need arises during high pressure situations.

In an interview with EmotionalBuzz, Judy adds: "It is fantastic the way EFT seems really to be getting out there. And being reported in an accurate and quite positive way.

"Now magazine contacted me because they had the story which mentioned but did not explain EFT. I talked to the journalist for some time and considering how much I said, I thought she did a good job in picking some of the key points.

"The piece in the Telegraph was obviously more in depth. But it went to some trouble to cover EFT in an informative and useful way. It is great to see it getting this kind of coverage."