Trainers rock at Glastonbury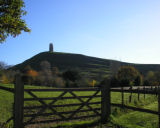 December 30 2009: The AAMET spring trainers' conference is being held on April 17.

A wonderful opportunity for AAMET Trainers to get together to share ideas and resources, the event will be hosted at Glastonbury in Somerset.

EFT masters Jaqui Crooks, Sue Beer and Judy Byrne will be attending, and Chris Bourne, AAMET chairman Helena Fone, June Spencer and Jenny Cox are among the guest speakers.

Chris Bourne will speak on the Planetary Shift of Consciousness occurring around 2012 and what that means for the Earth and humanity. Chris's spiritual perspective is derived from visions received during a near fatal car crash combined with his in depth knowledge of quantum theory accumulated during his MA at Oxford University. He will address how EFT clearing techniques help us align with this monumental transition.

Meanwhile, Helena Fone will update delegates on the new AAMET and how it is moving forward into a successful future, and address questions.

June Spencer, who co-ordinates the AAMET Curriculum and Competencies Workgroup, will provide an update on the criteria for AAMET Level 1, 2 & 3 as well as other training related matters.
Jenny Cox, who has presented courses at schools, colleges and universities on EFT as well as her own Balance Procedure techniques, will discuss how effective and successful these innovative techniques are.

Philip Davis and Christine Sutton are presenting their new Picture Tapping technique. This new technique is well suited for working with children, vulnerable adults, and those with mental illness, but of course it can be (and is) used on anyone. It is a very gentle technique that moves away from traditional EFT and therefore is more easily introduced into the mainstream areas of classrooms. It has more to do with art therapy than EFT, although it does use tapping. Philip and Christine will introduce some of the theory behind the process and will give a demonstration.

Also speaking is qualified complementary therapist Jenny Vestey, who has been employed by the NHS since 1995 and currently works at Pool Hospital (NHS Trust) in Dorset for the oncology directorate. In 2005 she trained as an EFT practitioner and helps patients with both physical and emotional issues.

Event co-ordinator Rowena Beaumont will speak about the bigger picture of EFT and related energy techniques.
Date: Saturday 17 April 2010
Venue: The Georges Room, The Glastonbury Experience, 2-4 High Street Glastonbury
Time: 10am –5pm (registration from 9.30am)
Fee: £55, which includes morning/afternoon beverages and wholesome vegetarian lunch
For further information visit AAMET Trainers Conference 2010. To register for the event and request accommodation details contact Rowena at