Gathering of the North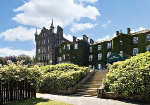 November 24 2010: The line up for 2011's northern Gathering event has been unveiled.

Delegates to the event, being held once again at Craiglands Hotel, Ilkley, will be spoilt for choice at the range of excellent presentations on offer.

The Friday schedule includes:
Dr Kate James and Linda Wood present Holistic Cancer Care
Phil Davies and Christine Sutton with The Picture Tapping Technique
Dr Rangana Choudhuri says Yes Indeed I Can!
Dr Shoshanna Garfield with Heal the Shadow Self
While Monday's offers:
Ruth Ablett with EFT and Cuddle Therapy
Heather Smiles and Gwyneth Moss with Surrogate EFT for Animals
Started only three years ago, the Gathering phenomenon has grown in scope and popularity, says Gathering 2011 organiser Gwyneth Moss.
"These not-for-profit community events were created not only to spread the word about EFT to a wider interested audience, but also to provide a friendly first stage for EFT practitioners to share their learning and developments," she says.

Now the phenomenon is being experienced world wide, with two UK events currently scheduled for 2011: the northern Gathering at the end of January and the Midlands gathering in May.

"Each year the presenters are first timers and this year's line up covers themes from EFT for children and families, personal and spiritual development and for serious illness," Gwyneth adds.

"The Gatherings have helped several well known tappers to launch their careers. We regularly invite the previous year's presenters to run whole day workshops on the Friday and Monday."

Read more about the Gathering 2011 workshop programme. Registration for the weekend is £99 including lunch, and the workshops are £65.