Nail-biting account in Daily Mail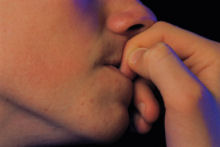 February 24 2011: EFT was the subject of an article in the Daily Mail online recently when a journalist recounted his attempt to put his nail-biting days behind him (report still available online).

The writer described how he only attacked two of his fingernails, leaving the other eight unscathed, and said his chewed fingernails looked "grim". He admitted he felt ashamed for not being able to kick the habit, in spite of giving up smoking a dozen years ago.

Working with an experienced EFT practitioner, Catherine Dixon, he was taken through the tapping procedure. He described how Catherine explained how EFT works and altered the phrase to address different aspects of his compulsive behaviour.
He also outlined EFT's origins and Gary Craig's role in bringing it to the world.

However, after his first session the journalist described himself as feeling 'more sceptical' about EFT and its ability to cure him of his nail-biting, as he felt no different about his addiction. For the following three days he continued to tap on the energy merdians as instructed, and a week or so later wrote his article.

The readers' comments after the article are generally supportive of EFT, and some suggest that the writer may have misunderstood what EFT was about and what he could expect.

Catherine Dixon told EmotionalBuzz about her session with the journalist. Read her response to the Daily Mail article.