Don't miss Tapping World Summit 2012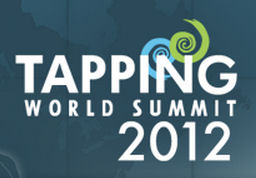 April 23 2012: Preparation is already under way for the next Tapping World Summit, taking place from May 7.

An unmissable line up of tapping talent has been assembled, including key speakers such as Carol Look, David Feinstein, Steve Wells and Pat Carrington.

To generate interest, the organisers have already created and released three content rich videos for those interested to see before committing to register for the main event.

In the first of the pre-event videos, EFT expert Nick Ortner, producer of the documentary film The Tapping Solution and The Tapping World Summits, explains how with EFT tapping you can rewire your brain to drastically improve the results in your life.
In the second video, Kris Carr discusses the real killer behind the headlines such as 'Heart disease is the leading cause of death' and 'Diabetes in now the 7th leading cause of death', and reveals the secrets to balanced health.

In the final video internationally known expert and best-selling author Cheryl Richardson talks about how to remove fear and anxiety in order to live a purpose-driven life where you get to have what you want and feel good doing itů

In a final video the organisers not only discuss some event details that are important for successfully accessing Day 1 of the event on Monday, May 7, they also share key facts about the human brain that can help us experience happiness, health, wealth and ultimate freedom.

Tapping World Summit, now in its fourth year, is 100% content, all designed to help you get results ... and the entire 10 days of the event are free. Not only that, by registering to view the pre-event videos, you can also put yourself in with a chance to win an iPad simply by adding your thoughts to the comment thread!

By signing up for the 2012 Tapping World Summit, registrants also get free access to two Tapping World Summit audios from Carol Look and David Feinstein.