EFT and Beyond: Cutting-Edge Techniques for Personal Transformation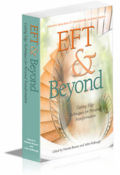 July 22 2009: An exciting new EFT book will be available to order from July 31 for delivery from September 1.

Compiled and edited by Pamela Bruner and John Bullough, this is the world's first printed collection of the most important EFT-related innovations and techniques from 22 of the 29 EFT Masters, plus several other internationally acclaimed experts (including all 11 British EFT Masters).

With 536 pages packed with advice, ideas and practical examples on everything from self-help issues such as self-sabotage and personal peace to detailed explanations of sophisticated techniques such as deep state re-patterning and matrix reimprinting, this book has something for everyone. In fact it is already being seen by many as a must have manual for all serious users, practitioners and trainers of EFT and as an excellent support book for Level 3 training.
EmotionalBuzz visitors can enjoy a sneak preview of the book and also have the opportunity to sign up for a free teleclass on the book with EFT Masters Pat Carrington and Tania Prince on Thursday July 30.

The book will be on sale at many EFT workshops worldwide from September 2009 onwards, as well as online. Ask your trainer for details or sign up to receive instructions by email once the sales page is operational.

NB: although this new book builds on the work of Gary Craig, the founder of EFT, its contents reflect the ideas of its authors and do not necessarily represent the complete, standardised EFT training offered at www.emofree.com.