Biggest markets open up to Matrix Reimprinting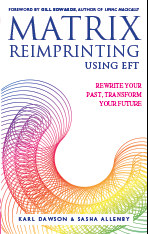 May 25 2012: Matrix Reimprinting: Using EFT, the book co-authored by EFT master Karl Dawson, is to be launched in the US shortly.

And the publishing rights for the book in China have been snapped up by a major science publishing house.

Self help publishing giant Hay House has confirmed that the US version will appear in July, says Karl. Meanwhile, Beijing based Economic Science Press, which is affiliated with the Chinese Ministry of Finance, will also release the book.
"The US news is a really big deal," Karl adds. "We're very excited about it.

"The book deal in China is particularly exciting. We're just hoping they will be open to the idea of meridians!"

Rights to the book have already been sold in Japan, Romania and Croatia, and Matrix Reimprinting: Using EFT is now available in German and Spanish, with a French version in the pipeline.

For further information about Matrix Reimprinting: Using EFT, including reader reviews, or to order your own copy, visit Amazon.