Find a practitioner near you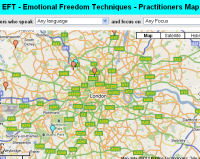 April 22 2010: Now those seeking a local EFT practitioner have a chance to find who works near them – and practitioners have a brand new opportunity to put themselves on the map.

The Practitioner Locator Map, powered by Google, operates just like Googlemaps and covers the entire world. Anyone searching for a particular practitioner can search by language and speciality area, such as women's issues, addictions or serious illness in their own region.

"The map was created by Canadian practitioner David Mackay for the good of all," says Tam LLewellyn. "David, who now lives in Mexico, translated Gary Craig's instruction manual into Spanish.
"EFT is becoming more widespread across the world and much better known. But with so many different ways of learning it and even with a multitude of different practitioner listings sites, it can still be difficult to find a local practitioner.

"This is especially true for those seeking therapy and those practitioners eager to make contact with other practitioners near them."

There is no charge either for using the map or for listing on it. It can be accessed directly at www.eftmx.com/map.php or, alternatively, via Energy Therapy World-Wide Net.