Matrix breaks into the movies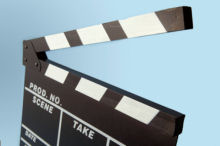 August 21 2010: EFT master Karl Dawson and Sasha Allenby, the authors of Matrix Reimprinting: Using EFT, have been filmed for a spot in a new Living Matrix film.

The film, Mastering the Matrix, is produced by Harry Massey and Giovanni Ulleri and is expected to be releaseed early in 2011.

"It's an impressive coup for Matrix Reimprinting," says EFT master Karl Dawson. "The first film in the series was amazingly successful, selling 200,000 copies. We were filmed the day after the producers filmed Archbishop Desmond Tutu, who will feature alongside other big names in the world of EFT as well as respected scientists."
According to Karl the film is the next stage of a terrific run of success for Matrix Reimprinting. "Our book, Matrix Reimprinting: Using EFT, is now officially out in bookshops and has also been as high as 380 in Amazon's ranking for ALL books, which is just amazing," he says.

Building on the book's success Karl and Sasha have launched their new Matrix Reimprinting website specifically aimed at practitioners in this new technique. The site, www.matrixreimprinting.com, which went live at the start of August, offers a centre of information for Matrix Reimprinting practitioners as well as those looking to find a therapist.

Sasha says: "Our team spent ages sorting the new website out and we are really excited by it. We're very grateful to Roy Martin, Rupert Wood, Rebekah Roberts, and Paul Kettlewell for all the hard work they've put in."

Not only that, both Karl and Sasha will be presenting at one of their publisher Hay House's 'I Can Do It' conferences in 2011, and have also produced a new introduction video for Matrix Reimprinting.