New Matrix magazine launched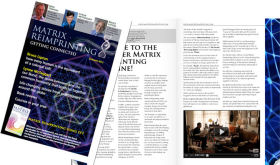 May 22 2012: Author and creator of Matrix Reimprinting Karl Dawson has launched a new online magazine all about this revolutionary technique.

The first issue, Summer 2012, is free to download and read from Karl's Matrix Reimprinting website, centres on the theme of that most basic human need, our desire to connect with other people. It features interviews with leading lights from the self help world, including Dr Bruce Lipton and Lynne McTaggart.

Dr Lipton talks about how the future of the human race at this very important revolutionary time depends on our ability to connect at a global level.
Meanwhile Lynne McTaggart shares the amazing story of 73 year old Texan Don Beck and the work he did in the '80s to bring the people of South Africa together.

In addition, Rabbi Immanuel Josef talks about training a whole team of care professionals in the art of Matrix Reimprinting to help resolve tragic events that have happened in the Israeli city of Tzfat since the '70s.

META-Medicine health coach and EFT and Matrix Reimprinting practitioner and trainer Janice Thompson describes how MR can help resolve self confidence issues.

The magazine also presents life changing stories from practitioners around the globe, book reviews and also lists where readers can find Karl's Matrix Reimprinting courses in their local area.

To ensure you don't miss out on the latest news in Matrix Reimprinting, register with the Matrix Reimprinting site to receive alerts on upcoming issues.