Matrix to make hay at Hay House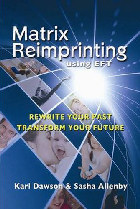 January 21 2010: Self help specialist publisher Hay House has offered Karl Dawson and Sasha Allenby a contract for their Matrix Reimprinting book, Matrix Reimprinting: Using EFT.

The book, which has so far been selling beyond all expectations, will be available from the publisher in August.

"We are both over the moon to be part of Hay House, alongside so many great names such as Louise Hay, Dr Wayne Dyer, Dr Bruce Lipton, Deepak Chopra, Gregg Braden and Byron Katie," says Karl.

"Being published by Hay House is going to take Matrix Reimprinting to a massive new audience.

"A million thanks to everyone who has been part of the growth and development of Matrix Reimprinting over the last 3-4 years.

Co-author Sasha Allenby adds: "This is really exciting news for the EFT community as the book will raise the profile of both EFT and Matrix Reimprinting.
"We are both so excited!"

Sasha says that in the meantime people can buy the self-published copy for a limited period only. "Unfortunately it is out of stock at the moment but will be back in stock in the next couple of weeks."

Don't miss out on this marvellous opportunity – make sure of your copy now for just £15.99 (plus p&p £2.75 (UK), £4.75 (Europe), £7.75 (rest of world inc North America)).

Hay House specialises in inspirational books, CDs and DVDs on self improvement, health, healing and spirituality. Many of its books have gone on to become worldwide bestsellers, featuring on the New York Times bestseller list.

Look out for further developments about this story in EmotionalBuzz.