Tapping over the airwaves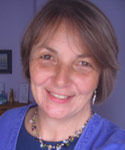 July 20 2009: EFT featured on local radio recently when practitioner Linda Anderson was interviewed on BBC Radio Essex and tapped with the presenter Dave Monk to help him overcome his craving for curry.

Back in June Linda had been invited to discuss the Law of Attraction on the channel's breakfast show.

"It's one of my favourite topics," she said. "I run an EFT and Law of Attraction Self-Help group in north west Essex, which was how they found out about me.

"The show's producer called and asked if I'd like to come in to the studio the next morning, but I had an appointment with a client that I couldn't change. As it turned out, the client didn't show up. However, I listened to the show and afterward emailed my comments about it."

As a result of her input, Linda was again contacted by the producer, who invited her to talk about EFT on the show, as well as demonstrate the tapping process.

"I always find tapping for food cravings a relatively easy, safe way to introduce EFT to groups of people and in fact Dave Monk admitted he had a craving for curry, so we tapped for that.
"Between records we talked about EFT and did a couple of rounds of tapping, and then continued tapping while the music was playing. It was challenging to say the least, as radio presenters have a million things to do while the music is playing, but he was very good and gave me as much of his undivided attention as he could – and yes, it worked, he didn't want the curry at all by the end of the programme!

"I haven't been in touch yet to see whether the cravings came back. I explained they probably would until he addressed whatever gave rise to them in the first place. That's on my list of things to do very soon."

Linda has a 22-minute edited version of the session on her blog, and it's also available to view in two parts on YouTube.