A new name – a new era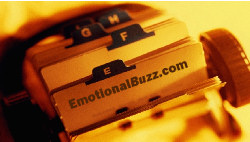 March 20 2010: After more than a year and 16 newsletter issues, the Buzz is taking a wider perspective on the world of EFT and related therapies.

And that slight change of direction brings a change of name to EmotionalBuzz.

Under its new name EmotionalBuzz will continue to bring you news and articles about EFT and related therapies direct to your inbox.

If you're a subscriber to the monthly newsletter – don't panic. You need to do nothing – you'll continue to receive EmotionalBuzz at the same address you used to sign up with AAMET Buzz.
If you've bookmarked pages for quick and easy access, or used the links to articles or other content for your own webpages, the links you have will continue to work for the forseeable future (although you might like to take the opportunity now to update them – simply replace 'aametbuzz' with 'EmotionalBuzz' in the link.

However, any web links to content on EmotionalBuzz related directly to AAMET, such as FAQs, guidance, rules and regulations and official documents, will fail as this content has now been removed from the new site.

We hope you continue to enjoy reading, and contributing to, EmotionalBuzz!