Emofree articles to stay online

March 20 2010: A new site is helping ensure that the vast wealth of information on Gary Craig's Emofree website isn't lost.

EFT practitioner and trainer Stefan Gonick has created a new site and is publishing as many of the original articles as possible, as well as new ones.

"The articles are freshly submitted by the authors," he says.

"Many were previously published on Emofree and some are new. They aren't copied over, but they are submitted by the original authors."

The process of adding articles is online and automated, thanks to advanced word-processing technology.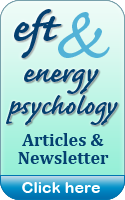 The author is able to assign up to three categories for their article, and the article appears in the listings for those categories. They also appear in a weekly newsletter modeled after the original Emofree one.

"The site has been live for only two months," says Stefan. "But there are already more than 170 articles in the library, with new ones coming in daily.

"The site will continue to exist whether or not emofree.com comes down," Stefan adds. "EFT-Articles.com gives people a quicker way to get their articles published, instead of having to wait for two to three months."