Help heal the scars of war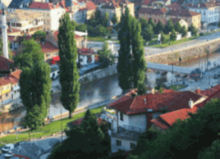 November 17 2010: Healing Hands Network, a small UK charity formed in 1996, is calling for help in its mission to treat people suffering the terrible consequences of war and disaster.

For the last fourteen years the charity has been working in Sarajevo, Bosnia & Herzegovina, sending fully qualified and experienced complementary therapists to treat people who lived through the war which ravaged the city between 1992 and 1995, and are now suffering from post traumatic stress disorder (PTSD) as well as other physical and emotional trauma.

"Our clients come to us from the Association of Concentration Camp Victims, the Association of Civil Victims and the Centre for Torture Victims," explains Sandra Griffiths, an administrator with the Healing Hands Network.

"Many have lost their homes, their loved ones, their limbs; most have lost hope. We use hands-on therapies such as massage, reflexology and aromatherapy, as well as reiki, to give them confidence to face the future. Many report that they are sleeping better, flashbacks are reduced and their physical pain is lessened.

"Until this year we haven't used language based therapies in Bosnia because of the difficulties of finding reliable interpreters, but last August two of our members, Fiona Smith and Caroline Rolling, went to Sarajevo to undertake a pilot scheme using EFT and Matrix Reimprinting. They worked for two weeks with a specially chosen group of clients, and the results they reported were very encouraging.

"We hope to use EFT and Matrix more extensively in Sarajevo next year, and we also feel that these therapies would fit very well into our new project to help returning servicemen and women in the UK. We are planning a pilot project in the spring of 2011 to use our extensive experience of PTSD to offer treatments to members or ex members of the armed forces and their families who are suffering from this debilitating condition and are unable to obtain help elsewhere."

EFT practitioner Caroline Rollings, who visited Bosnia earlier this year, adds: "The Healing Hands Network is holding two meetings in January for interested practitioners and therapists to find out more. Whether anyone wants to volunteer in Bosnia or in the UK, they won't regret it. Healing Hands Network really looks after volunteers and Bosnia is an amazing country with the loveliest people. Volunteering in Bosnia is so rewarding and fun too!"

To get involved with the Healing Hands Network by donating or volunteering, get in touch by calling 01885 410620, emailing

or contact the charity through its website, www.healinghandsnetwork.org.uk.