EFT top of the form for exams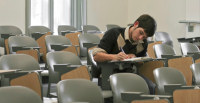 May 17 2010: Practitioners Alan and Jenny Cox have returned to the classroom, not in a bid to recapture their school days, but to help students cope with exam stress through EFT.

"Over the past 18 months we have been presenting talks and workshops all over the UK and Ireland," says Alan.

"A short while ago we were invited to present to a number of schools. The first school we visited had more than 50 sixth formers and we concentrated on exam nerves and how the students coped, or rather didn't cope, with the expectation of failing and also passing their exams.

Alan and Jenny used their technique, The Balance Procedure (TBP), with the students.
"With TBP there is no need to go back in time and find where the students' blocks may be," Alan explains. "They were confident enough to come up to the front and allow us to demonstrate on them. This really amazed me as using other techniques, unless you had the students on their own, they would be wary of saying too much in case they are teased by their peers or embarrassed in front of the teachers."

At two other schools Alan and Jenny met students aged 14-15, and at a primary school they met all the students a class at a time.

"Again the students really engaged in the technique and were queuing up to be demonstrated on," says Alan. "In TBP we use cards that represent the subject's numerology and these are a useful way to illustrate to older students whether they were living up to their names. With the younger kids we use favourite colours. This went across very well and they really enjoyed watching their favourite teachers balancing themselves.

The couple's next goal is to do porridge and they are approaching prisons and young offenders centres with a view to organising workshops for inmates. "It would be interesting to see how TBP might benefit prisoners and staff," Alan says.

Do you have experience of using EFT in these kinds of institutions? If so, and to find out more about TBP, get in touch with Alan or Jenny at

or via their website.