Presenters wanted for Gathering 2011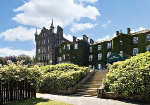 May 17 2010: It seems only a short time since Gathering 2010 took place, but preparations are already under way for Gathering 2011.

Building on the success of past events, capably organised by EFT master Gwyneth Moss, Gathering 2011 is scheduled for Saturday 29 and Sunday 30 January, 2011. Once again the venue will be Craiglands Hotel, Ilkley, West Yorkshire. The hotel, built in 1859 as a hydrotherapy centre, is set in the peaceful and scenic Ilkley Moor.

Gathering 2011 will provide an opportunity for EFT practitioners to come together and listen to fellow practitioners and trainers, and share the special atmosphere generated at the event.
Around 10 presenters have already been lined up and the organisers are keen to extend the opportunity to present at the 2011 event to six more.

"Do you have a passion for a specific aspect of EFT? Experience in a particular area that you'd love to share?," says Jay Kelly, who is helping organise the 2011 event. "It's a great way of helping others to help others. If you are interested please email Andy Eckley at

with an outline of what you'd like to talk about."

Jay also welcomes suggestions from participants about entertainment ideas for the Saturday night. "We would love to hear about what people would like. Last year we had 'Soul Dance', which everyone thoroughly enjoyed."

The EFT Gathering is a fundraising event and all profits from the weekend go to EFT Research UK and the AAMET. The organisers and presenters all volunteer their time and effort to ensure its success.

Further details about workshops available on Friday January 28 and Monday January 31 will be available later in the year.

Visit EFT Events for a glimpse of the key moments at Gathering 2010. Here's what one participant said about it:
"What an excellent weekend the EFT gathering was! The best EFT event I've attended, and, as you know, I've attended many. Not that they weren't good, but this weekend was really special, it had something for everyone. The quality of the presentations was excellent, with such diverse topics and inspirational personal growth stories and achievements. Not only were the speakers clearly experts in the area they were talking about, they were entertaining and inspiring. It's fantastic how Gary Craig's philosophy of "Try it on everything" has inspired the progress we saw on the stage this weekend. Thank you so much for making it all happen so wonderfully."
Pat Ballantyne