Beating the chocolate habit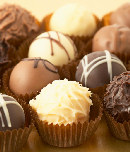 December 15 2009: Those of us struggling to beat food related cravings usually wait until the New Year before testing our resolve. But practitioner and trainer Alan Cox believes a recent experience has given him a head start on overcoming his longing for chocolate.

"It began at our EFT training workshop in Belfast, when two of our delegates presented using EFT to address their own chocolate cravings," says Alan.

"They talked us through the process and began to tap on only three points, which brought in the use of algorithms. Both Jenny and I were very impressed.
"To experienced EFTers this might not sound interesting but for me I believe it helped clear a lifetime addiction to chocolate.

"Why, after more than 50 tapping sessions both borrowing benefits and working one-on-one, trying NLP and hypnosis, my cravings finallly went, I can only put down to what we call 'sneaking up on a problem'.

"I think that when following our two trainees by rote when they brought in the algorithm caught me by surprise and it seems to be as simple as that."

Alex is now three weeks free of chocolate cravings and can report no desire whatsoever for it. "With Christmas coming up it couldn't have happened at a better time," he says. "Thanks to our two trainees and also thanks to EFT."