Masterclass 2011 to a T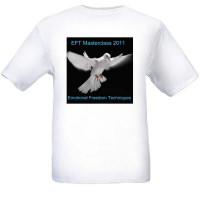 August 14 2011: Now you can be there, do that and get the t-shirt – at Masterclass 2011.

EFT master Gwyneth Moss has designed a smart t-shirt to commemorate the event. These are currently only available as a thank you gift to those who are registered for the Masterclass and who refer a friend.

Masterclass 2011 is being held at the Royal York Hotel over the weekend of 22-23 October. Gwyneth, along with Emma Roberts, Jaqui Crooks, Tania Prince, Sue Beer, Ann Ross and Judy Byrne will be sharing their experience and innovations.
Book your place before September 1 to take advantage of the early price of £275.

To find out more, visit the event website and look out for further news in EmotionalBuzz.