Law of Attraction made easy – new book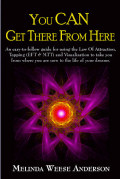 April 18 2011: A new book from Ontario based EFT practitioner Mel Weese provides an easy to follow guide to the Law of Attraction.

You CAN Get There From Here, available in paperback from Amazon at $11.95, also shows you how to use visualisation to take you from where you are now to the life of your dreams.

A fast-paced, easy read, You CAN Get There From Here, is full of information, inspiration, humour, and everyday, real-world examples.

You'll learn how to identify the beliefs that are holding you back from what you say you want, how to deal with limiting beliefs so you can go beyond them and adopt new and empowering beliefs instead.

Mel says she wrote the book because she has benefited personally from the techniques she describes in it.
"All of the tools and techniques in the book have been tested in the field by me," she says. "I've used everything in it to transcend my previous dreary existence where I felt hopeless, alone and on the verge of suicide, to a life I totally love; a life that gets more amazing every day as I continue using the tools I share with others!

"Whether you're in a dark place and feel rather hopeless, or if you're in a good place but just haven't quite closed in on great, do yourself a favour and spend a few hours reading this book and doing the exercises. You will be glad you did."

Mel's book is already earning plaudits from readers. Reiki Master Jacki Shepherd says: "This book is a must read! It's easy to follow and just flows from start to finish. Even if you've never done any tapping or have never even heard about tapping, Mel's instructions make it very easy to do. Reading the pages felt as if I was sitting and having a chat with Mel and I'm sure you'll enjoy it as much as I did."

Find out more about Mel and her book at Mel's website.