Would I tap on you?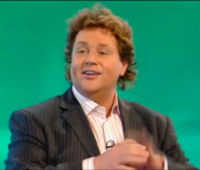 October 12 2010: Tapping made a brief appearance recently on BBC comedy panel show 'Would I Lie To You'.

Contestants in the game show, based closely on 'Call My Bluff', gain points for their team by recounting unlikely personal stories about themselves, which may or may not be true, and successfully bluffing their opponents.

During his round, singer and West End acting star Michael Ball claimed tapping was one of three rituals he performs before going on stage to perform the role of Edna Turnblad in the musical Hairspray.
He then proceeded to demonstrate tappipng on a couple of points on his fingers and hands.

However, sharp-eyed guest celebrity Trinny Woodsall from the opposing team, who evidently knows her tapping points, accused Michael of doing it properly at first, but then pretending to fluff the procedure in case he gave the game away! For that reason she believed he was telling the truth.

But both of Trinny's co-panellists thought Michael was lying. In the denouement, Michael admitted he was being truthful.

The very notion of tapping had the audience in stitches, so it seems that EFT and tapping still have some way to go to win social recognition and acceptance, at least among game show audiences.