Matrix book on fast track to success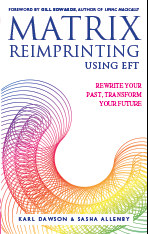 February 12 2010: Matrix Reimprinting: Using EFT, the exciting book by EFT master Karl Dawson and Sasha Allenby, is on the fast track to success.

Instead of the 18 months it usually takes to launch a new title, specialist publisher Hay House, which signed a deal with the authors only this week, says the book will be available in just six months.

"Hay House are so excited about the book they are rushing to get it out as soon as possible," says Karl.

"They have sold the rights in Germany, and an agency is already working on the German translation."

The meeting with Hay House to cement the agreement couldn't have been more removed from Karl's and Sasha's expectations.
"We thought we'd walk in, sign on the dotted line on a piece of paper, and that would be it," says Karl.

"But they have a huge marketing machine and we had almost a day's worth of presentations from the whole team, including marketing and PR people, the website developer and even the person who designed the new cover."

"Altogether we saw about eight different people. Hay House editors will also be involved, reformatting the book and adding more pages."

The deal includes a major push which entails interviews with tv and radio, as well as newspapers and magazines. "It's not just about the book," Karl adds. "We're also having a new trademark and a website. It's going to be a busy few months for me and Sasha!"

Stocks of the first edition are running low, and the Hay House edition won't be available until August, via Amazon and major bookshops. But you can still buy the current edition for a limited period. Don't miss out – secure your copy now for just £15.99 (plus p&p £2.75 (UK), £4.75 (Europe), £7.75 (rest of world inc North America)).