Proposals welcomed for 2010 Gathering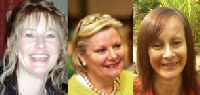 August 17 2009: The organisers of next year's AAMET Gathering, being held once more at The Craiglands Hotel in Ilkley, West Yorkshire over the last weekend in January, are calling for proposals from members who would like to present at the event.

Proposals should provide details of:
you and your practice
the subject you wish to present and what the audience will learn or how they will benefit
names of two people who can tell us about your potential as a presenter.
Presentations should be 40 minutes long and will not require powerpoint. The organisers recommend that a single topic is presented, which may include a demonstration or group tapping. As this is a not-for-profit fund raising event, all presenters are asked to pay the registration fee and no expenses will be paid. Funds will be raised for EFT Research UK.
A committee of three of last year's presenters, Gillian Wightman, Margaret Abraham and Frances Songhurst, will sift through the proposals and assess whether to include them in the programme. Sue Ashton Green has volunteered to be the event manager.

"The Gathering is intended to be a first stage for EFT practitioners and trainers who have something to share about EFT," says Gwyneth Moss, webpage and registration manager for the event. "Several of last year's presenters were later invited to present at the Masterclass, which is for experienced and international presenters. The audience will be supportive and there is a strong sense of community throughout the event."

Full details of the programme for the AAMET Gathering will be announced at the EFT Masterclass in Manchester in October.

Visit the event website for further information about the presenters and handouts, as well as reports about this year's programme.