Appeal: practitioner in Germany sought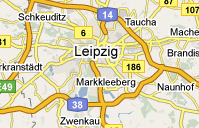 August 7 2009: Italian-based EFT practitioner Anita Colucci is looking to the EFT community for assistance in helping one of her clients – a boy with very severe disabilities.

"He is based in Leipzig, in former east Germany," she says. "As there is no budget I have been offering my services free of charge.
"The problem is that, because of his disabilities, the boy needs to do the sessions face to face. That rules out normal contact via telephone or Skype."

To find out more, or if you know of an EFT practitioner in or near Leipzig willing to help, contact Anita at