Enjoy Emotional Freedom: simple techniques for living life to the full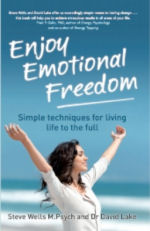 This is a little book about a big subject. It represents the fruit of over a decade of experimentation and innovation in the field of energy psychology by two of the most enthusiastic and original contributors. It provides up-to-date and practical information on using Emotional Freedom Techniques (EFT) as well as Simple Energy Techniques (SET) to change your life.

By teaching an easily adopted system of tapping on the body's meridian points this book, by Steve Wells and Dr David Lake, enables you to tune and tone your body's energy system for immediate relaxation and relief from stress and anxiety. You can also learn how to apply the meridian energy stimulation directly to a number of emotional issues with predictable and positive results.

Newcomers to energy techniques will be excited to learn a technique that they can use without being clever or psychological. Experienced EFT and tapping practitioners will also learn a number of innovations and advanced refinements which will enhance their results with clients.

This book guides you into ways of being better balanced and more emotionally 'fit' regardless of the thinking you might be saddled with at present. Best of all, the book is a simple one about a simplification of energy techniques. It gives you the life-long gift of being able to help yourself far more than you ever imagined.


"Steve Wells and David Lake offer us exceedingly simple means to lasting change in Enjoy Emotional Freedom. The emphasis on how to achieve self-acceptance and the technique of continuous tapping are unique contributions. Their guidance in this book will help you to achieve miraculous results in all areas of your life."
Fred P Gallo, PhD, author Energy Psychology and co-author Energy Tapping
"This is a highly sophisticated, nuanced, yet eminently practical and accessible introduction to the uses of energy psychology. Written by two of the field's pioneers, the authors' extensive experience as clinicians and teachers is conveyed in clear instructions, relevant and interesting discussion, and a plethora of illuminating case vignettes."
David Feinstein PhD, author The Promise of Energy Psychology and Energy Psychology Interactive
"This book, by two of the most inspiring pioneers in the field of energy psychology, is a lucid and light-spirited introduction to the field. It covers all the essentials, plus powerful refinements they've originated in their extensive clinical experience. If you've been held back from your dreams or goals by stuck emotional responses, you will find yourself shifting even entrenched patterns quickly – within the first hour of using the methods described so ably in Enjoy Emotional Freedom. New experimental evidence shows the epigenetic and neurogenesis effects of positive emotional changes; the methods in this book give you practical tools for applying these findings for your health and wellbeing.

"Whether you're working with children, improving your marriage, boosting your business, or applying energy psychology for serious conditions such as major depression or illness, Enjoy Emotional Freedom provides wise advice, fresh insights, and an admirably clear exposition of the major ideas and most effective practices in energy psychology. I recommend it highly."
Dawson Church, PhD, bestselling author The Genie in Your Genes
"This is a really excellent book from Steve Wells and David Lake. In these pages you will find some of the best, clearest writing on Energy Therapy anywhere &Packed full of wisdom, insight and practical good sense, this is a handbook for personal transformation which we will be recommending to all our students and clients."
Sue Beer and Emma Roberts, EFT masters, founders of The EFT Centre, London
"Enjoy Emotional Freedom is more than a book – it is a journey on which Steve Wells and Dr David Lake help you discover the power of energy and the simple steps in mastering it."
William E Hablitzel MD, award winning author Dying Was the Best Thing That Ever Happened to Me
"Wow, this book is a home run ... If you have one book on EFT this should be it. This is required reading for all my EFT students."
Andy Bryce, EFT Master
"A book that should be on the shelves of all EFT practitioners however experienced."
Prof Tam Llewellyn-Edwards PhD, EFT master
"An inspirational read."
Jaqui Crooks, EFT master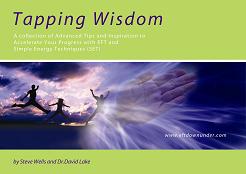 Pre-purchase your copy of Enjoy Emotional Freedom before the publication date of April 1, 2010, and receive a special autographed copy of the book AND receive a FREE copy of the authors' e-book Tapping Wisdom, valued at A$24.95. The Tapping Wisdom e-book link will be sent to you instantly for downloading and your autographed copy of Enjoy Emotional Freedom will be posted to you as soon as stocks arrive at our offices in early April.

Visit the book's dedicated website for more information about the special pre-purchase offer for subscribers, more rave reviews and to place your order.

Order your autographed copy and claim your bonus e-book now!