EFT Gathering 2013 'the best yet'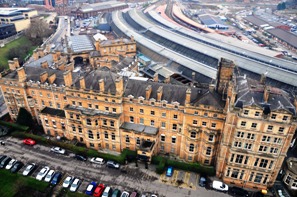 This year's EFT Gathering, held at the Royal York Hotel in January, was the 'best yet', according to event organiser Gwyneth Moss.
"This was our fifth year of the original EFT community event for sharing, learning, networking and making new friends and everyone who attended has been talking about how much they enjoyed it, and even voted it the best yet," Gyneth said.

"Our mix of both experienced international presenters and new names all had something new to share."

Gwyneth added that those who were unable to attend the event don't need to miss out.

"All of the presentations and demonstrations were audio recorded and these are available as mp3 files from the event website for the small fee of £3 each, so now everyone can still listen in and feel part of this magical experience."
EFT master Gwyneth Moss developed the Protective Distancing 'box' technique to get tapping into those overwhelming memories that cannot be spoken and then realised that applies to guilt too. Gwyneth introduces and demonstrates the technique.
Singer Abi's pelvis was shattered in a motorbike accident, and botched surgery condemned her to years of constant and severe pain. EFT has been transformational and Abi shares how she has learned what works with EFT.
A life-long diabetic, Gary has used EFT to succesfully manage his condition. The EFT Hub online video and audio library is his brain child. To create this treasure trove of EFT learning, Gary has spent hundreds of hours interviewing all the big names.
Helen outlines a simple introductory route to finding and addressing core issues quickly and effectively and keeping specific events manageable so that your EFT work is as thorough as possible.
Seeing the traumas that come from premature births, stillbirth and IVF, Ruth realised that intense emotions are often shut down and need to be brought to the surface to be cleared. Using highly realistic 'babies' and EFT she founded Cuddle Therapy
If medicine aims at making 'diseased' human beings 'healthy', it must be able to draw upon appropriate concepts of health and disease. Dr Bircher shares his new model of health – including EFT.
We know that EFT is fast but what can you do in ten minutes? Susie Foster is a GP who came to EFT to help her family. Now her colleagues are sending patients to Susie for EFT. But what can a GP do with so little time?
Years of surrogate tapping for animals has taught Heather what traumatises horses, how that manifests and how we can use surrogate EFT to free them from the past. Engaging stories and live tapping.

Heather's EQUINE PTSD session includes a live demonstration of surrogate tapping for animals. Heather invited Gwyneth to join her and they demonstrate surrogate tapping for a horse belonging to a member of the audience that neither of them has met. Download Heather's audio to listen to this extraordinary demonstration. The owner has since reported that the horse is more relaxed and less fearful.
Gwyneth Moss, Abi Tearse, Gary Wiliams and Helen Walker form the first discussion panel for an interactive session with the audience.
Ruth Ablett, Susie Foster, Johannes Bircher and Heather Smiles form the second discussion panel.
Throughout the event the audience chose their own issues to focus the tapping and tapped along to borrow benefits. Those familiar with EFT can tap along with the demonstrations.