Trauma Buster Technique in Pakistan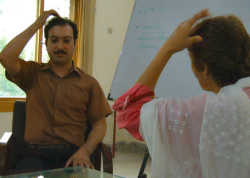 Over the years I fine tuned and developed a very simplified version of EFT and called it TBT (Trauma Buster Technique). My interest was in helping people with post traumatic stress symptoms as quickly and painlessly as possible. TBT is not dependent on literacy, language, IQ, gender, age or belief system. It is the story technique, with the movie technique and other steps which make it easy to teach and learn.
by Rehana Webster
This year I had the opportunity to visit Pakistan and offer free training to any organisation which was willing to sponsor my workshops.

I trained over 200 people in total and the workshops were given in Peshawar, Islamabad and Lahore. The participants were entirely from the medical community and they are the front line people working in the worst areas of the ongoing war, floods and other disasters.

The participants were medical doctors, psychiatrists, psychologists and psychotherapists and students from various university psychology departments. It was a challenge getting them to accept this technique, as they had never heard of EFT or any other form of energy/meridian healing. However, after tapping on their own issues, they started to see how TBT works and then there was no holding their enthusiasm back.

I was invited by Dr Parveen Azam Khanto of the Dost Foundation to teach AAMET Level 1 EFT and TBT to her staff and colleagues. This non-governmental organisation rescues street children who have drug addictions.

The children are housed at the Dost facilities for two weeks to detox and learn basic living skills on home living and personal hygiene. The majority of them have been sexually abused as it's a way of survival on the streets.

The second and third workshops were delivered for another non-governmental organisation, Sahil, in Islamabad and Lahore. Sahil deals with victims of sexual abuse and incest.

The CEO of Sahil, Manezeh Bano, had invited me to present TBT to her staff who again were mainly psychologists and doctors. Manezeh had already heard of this tapping technique because during the 2010 floods some agency workers from Germany visited Pakistan and showed one of the staff members how to relieve stress by tapping.

Later, I was invited by OXFAM to present a one-day TBT workshop at its annual conference in Islamabad. The theme was Violence Against Women in Police Custody. There were about 60 participants and TBT was fully embraced. Many of the participants had amazing results with their own traumas such as home invasions, tragic car accidents, hold ups, explosions and violent attacks.

After each workshop participants were keen to teach TBT to their families and to other field workers.

Dost Foundation is already using TBT with the young drug users. One of the steps in TBT is the use of cartooning and music. I was really surprised to find out that the cartooning step was the favorite and the addition of music was a bonus. My own belief system has got in the way because I thought that cartoons would not be acceptable in that culture within the context of the traumas.

One of the trainees from Dost wrote to confirm how the cartoon with music component is a favourite.
Dear Rehana

Happy that you are good and in your country!

We are using these techniques with our children and found that they are working well to relieve their psychic trauma. Both the techniques are applied. Our children get more interest in the imagination techniques of cartoons, putting characters into the cartoons and the reverse process. This technique works in modifying their attitude, self-image and countering anxiety and stress associated with their life events at home or on streets.

We have also planned to train our active citizens on these techniques.

We are thankful to you for your time with us. We hope whenever you visit Pakistan you will come to DOST, give us time and train us on new techniques.

Kind regards,

Syed Zia-ul Hassan
Manager PMER
(Planning, Monitoring, Evaluation and Research)
Dost Welfare Foundation
Rehana Webster, BSc
EFT Founding Master, NLP Master
AAMET Trainer & Mentor
Perth, WA, Australia
www.behaviourchanges.com