Can EFT heal a broken heart in 24 hours?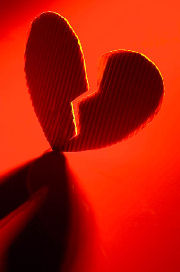 EFT made the national press again earlier this month when a Daily Mail journalist decided to explore a range of therapies in the aftermath of the break up of her marriage.
After 11 years with one man, the life they created together – four children, cottage, two dogs, beaten-up old Land Rover – had come to an end.

And in spite of the sunny spring weather on her visit to a Hampshire-based country house spa for a new 24-hour emotional detoxing course the journalist, Lucy Cavendish, admitted she couldn't have felt worse.

"Try as I might, I can't make sense of any of it. I want to cry, curl into a little ball and hide away," she reported. "Sadness, frustration and anger have taken up permanent residency in my body."
But in spite of having spent years of her life wondering why she kept on falling into the same emotional pitfalls, having crushing feelings of panic, a lack of self-worth and yet, underneath it all, feeling so out of control, she didn't want to be a "devastated, angry, crazed single mother, scared of the future".

Lucy discussed her predicament with the spa founder, who told her that women "give themselves a hard time. We repeat the same patterns, think the same thoughts. This is something we want to change. We're here to support you".

For her 24-hour stay Lucy was prescribed massage, yoga and Nordic walking, as well as a session of EFT with renowned practitioner Ranjana Appoo. Sceptical about how just 24 hours of therapy could solve such deep-rooted problems, Lucy admitted that it all sounded "a bit airy-fairy and New Age" to her.

However, the massage had a strongly calming effect. "It feels heavenly" Lucy said.

Rangana then taught Lucy the tapping points of EFT, and asked her to describe how she felt: "Frightened", and how she would like to feel: "Peaceful, hopeful, calm".

As Lucy followed Rangana's guidance on tapping, visualising her fears, hopes and loves, she found that she enjoyed the rhythmic nature of it.

By the end of the hour, when they repeated the statements and tap, Lucy found that she believed these things to be true.

She wrote: "My head has cleared. My feelings of helplessness have gone. I am not sure if it is because of the release in verbalising how I feel, the opportunity to focus on myself for once, or whether it is the tapping.

That evening she went to bed "exhausted but smiling, for the first time in months. I have a peaceful night's sleep".

Lucy's therapy day ended the following morning with an introduction to Nordic walking and a Kundalini back massage.

She wrote: "I have had a wonderful time and I feel so surprisingly relaxed, I want to chain myself to the bannisters and never leave."

And on her train journey home, she felt "resolutely positive" and didn't have "a toxic thought in her head".

During the journey, a text message from her ex arrived on her phone – which would normally make Lucy feel like "running for the hills" – and a sensation of panic filled the pit of her stomach. But almost inadvertently she began to tap each finger, as instructed by Ranjana, and she found herself saying to herself: "I acknowledge the fact that I am going to be OK with all of this".

Lucy said that she began to realise that the fear was ebbing away and she was elated by the sense of calm she'd managed to restore. She considered it might be the first small step to emotional recovery, and a week later she still felt the same way.