EFT just the tonic for off-key violinist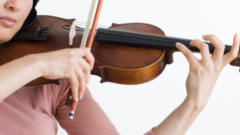 I was asked to work with a lady in her 20s called Pilar (not her real name) who had a rare condition called hypermobility syndrome (HMS). Pilar was an accomplished violinist in a highly acclaimed national orchestra, travelled worldwide and played in international orchestras. She loved her life and doing what she did so beautifully, playing the violin with some of the best musicians in the world.
by Marie Holliday
Her condition affected her so badly that when we met in 2007 she hadn't played for more than four years.

The first time we spoke I realised how talented this lady was. I had asked her to bring photos of her time in the orchestra and her travels to use with a technique I was developing called the Energy Exchange Photo Techniques. Here the client taps with a photo, on a photo itself or a combination. I also asked her to bring photos of her family and boyfriend that she had issues with and possibly one of her playing the violin.

While I was looking for a contrast and comparison in good health and bad health in the photos, I had a light bulb moment: the Photo Technique was giving phenomenally quick results with many clients, so I thought, why not try this with personal objects and tapping and see where this took us? It was the violin and the request for a photo that made me think about energy in objects and possessions and how to try EFT with her violin.

Pilar used EFT herself and though she thought it was a bit strange, she brought the violin on holiday with her along with her suitcases.

She wanted to work very intensely over her two-week break, so we designed a flexible programme to incorporate tapping and look at the many issues, aspects around her illness.

I looked more into her syndrome and discovered that it means more movement and describes the over-flexibility of joints. It is a genetically based condition and one of the many symptoms can be loose joints which are prone to dislocation and chronic joint and limb pain, even when X-rays are normal.

Pilar had the capacity to move her joints more than most people which had been an advantage as a violinist. The HMS Association say it may affect very creative and artistic people more, such as musicians.
Limited mobility (many times with use of mobility scooter and walking aids)
Specific chronic pain the size of a 5ct coin above each knee and the same on each arm midway between wrist and elbow (so bad it put her to bed)
Periods of normal life interspersed with excruciating pain and an inability to perform household tasks, such as shopping, cleaning, cooking and playing her violin.
She was wracked with anger at not being able to play her violin, she had anxiety and a constant fear of this pain returning, guilt around many issues and a feeling of a lack of love and approval from her father.

Pilar's symptoms first appeared around 1997 when she was studying at the Guildhall School of Music and Drama, London, where she became completely stressed by the number of different subjects she had to study at the expense of her violin. Additionally, her music teacher changed her technique, which created discomfort in her left elbow as she had to play the violin in a higher position.

From the age of 8 Pilar had always played the violin in the same position so this alteration was very difficult adapt to. She felt all her fellow musicians were much better than her and could play better than her. Being considered one of the top violinists within her country and field, this was particularly demoralising for her.

At the same time, she had finished with her boyfriend because of her need to travel, and she felt terrible guilt over this as he was devastated.

Her father used to play the violin and many other musical instruments but never praised her and at her first performance with an orchestra, Pilar said how proud she was that her parents were there watching, but afterwards he only commented on the 'one bad note' she had made that ruined her performance.
During the two-week programme we worked alternate days on many of these issues and discovered that there was a sense of a lack of love from her father and changing her technique attached to the pains she developed, writing on the walls and her belief system that fellow students were better than her and a myriad of guilt trips.

We used the Photo Technique virtually every session as Pilar loved the use of photos and tapping. She used present day photos of her in in her wheelchair, and we tapped on her immobility even though her HMS syndrome was over mobile and compared them as we tapped with photos when she was in good health.

Some examples were:

Poor health photos
"I can't play my violin now"
"I can only walk a short distance"
"It makes me feel helpless"
"I wish I was healthy again like that photo" (a photo of her playing in the orchestra)
She loved having all her photos spread out and she would just pick them up and start tapping on the photo and on herself, or both.

She would hop around from her lack of love from her father to tapping on guilt about finishing with her boyfriend when she left for London, to tapping on anger around a photo where she was with friends and felt left out.

Good health photos
"I feel great here" (photo of her rock climbing)
"I am playing so beautifully here"
"I really loved him here, I felt good we were so happy"
"I had lots of energy and could walk normally"
Pilar responded instantly with her photographs and it led to so many questions for me to ask, such as 'why did you feel left out?', 'why do you feel helpless?'

We also used one of her father where she sat for about 20 minutes just tapping on his photograph and having a conversation with him. A conversation that she could not physically have as she was too fearful of his response. She sobbed for quite some time and I tapped on her gently. She said it was the first time she had cried for years especially about her father.

These sessions went on over the holiday and Pilar improved considerably over this time until she was able to wash up and stack the plates and clean around a little more.

Each session I asked if she wanted to take her violin out and try to play. It was propped in a corner in the case. She always said no very strongly.

The fifth session, I asked as usual about playing the violin and commented it looked so lonely in the corner. Pilar replied: 'Just like me. OK I will have a look at it and see how I feel'.

I appreciated it was a special moment as she hadn't once in four years opened the case or taken the violin out of it.

Pilar seemed very hesitant and on questioning said she was frightened. I asked what of and she replied...'a fear – fear of the pain, fear of playing'.

We tapped on this and I started by personifying the violin. I use personification a lot with pain and objects. It is fun, humanises something to allow a client to have a conversation with it and can also be good for dis association.

So we tapped around 'even though my violin has been all these years hidden away and all on her own ... immobile just like me and no beautiful music playing anymore ... she must feel soooo lonely'.


Violin (me): "Yes I am really lonely, I have not seen you for sooo long, I have missed you, my best friend, we played so beautifully together and had such fun!"
Pilar: "I have missed you too and playing together ... but I am scared of the pain ... I am so frightened ..."
Violin: "I have been frightened too. The fear of the fear is so great isn't it? I am still in this violin case and afraid."
Pilar: "Yes the fear is the greatest thing."
Violin: "The fear of the fear is worse than the actual fear! I am nearly afraid to come out. Could you take me out of the case first? Would you like to be together again and play, even if it's for a few seconds ... it's just so long I have missed you."
Pilar: "I am not sure ... but maybe I can hold you and get to know you better ... you would need tuning, of course."
Violin: "Yes of course I would love you to tune me, it's been so long too long ... but first take me out ... don't be frightened ... not of me."
Pilar went back to the violin, ( she had been seated for tapping).She very carefully and slowly removed the violin and she held it away from her body at first.

I said cheekily as the violin: "Hello Pilar, I have missed you!"

She smiled quite easily.

I then gently coaxed her by questioning how to clean and tune a violin, about the strings. She showed me the procedure.

I asked if she wanted to play her violin.

She said she was afraid the pain would come back so we tapped around that.

Then she said she would try.

I will never ever forget that special moment when Pilar played for the first time in four years.

She played for about three minutes and it was truly wonderous and quite surreal to sit in her holiday apartment listening to this most beautiful music. I felt very privileged.

She stopped and said she couldn't believe she had played for so many minutes but was worried about playing longer in case she had this pain.

We tapped around the pain and used a photograph of her with her violin. She tapped on it and I guided her as the violin again personified.
Violin (me): "Pilar, why are you so afraid of this pain? I know how bad it is: I have heard you crying out in pain, but I would never hurt you. We are so close ... so united ... I would never wish you harm ... thank you for playing me ... we still make beautiful music together ... you are the best."
Pilar: "Oh, thank you. I have missed that so much ... playing together and the feel of your soft smooth wood beneath my chin."
Violin: "We are so close ... we are as one ... we should never be separated ... ever again ... please don't keep me in there for so long again."
Pilar: "I wont ... ever again ... that's a promise."
We finished the session and I returned after the weekend to find Pilar looking very relaxed, happy, and even content. She had been playing the violin for a few minutes each day and was thrilled. Her boyfriend could not believe the difference he saw in her.

The rest of the sessions we still worked on many issues but always finished with her violin and playing for a while and talking to it or tapping on it in her photos.

After her orchestral days had finished, Pilar began to teach small children the violin but was always disappointed that she could never play to them for very long and only used it very occasionally for tuning up. She was excited that on her return she may be able to use her violin more with her students.

The following year I worked again with Pilar. While she still had many issues, she was playing her violin more and was more mobile and not as reliant on other people for help with everyday tasks. During the year in between, she had diligently tapped and we also had a few Skype sessions. She was delighted with her progress even though this was slow at times.

We hadn't spoken for a couple of years. But when I began to write an article on using personal objects and photos and personification with EFT, I thought of Pilar.

I wrote to ask her permission to share some of her arduous story. She told me she was so much better and could play to her students now, sometimes complete scores of music, she was more mobile and pain was generally not in the equation now.

I am so pleased to share this story with you as Pilar is so persistent and diligent in her years of tapping.

I often say to clients "You are the secret of your success and I am just kick-starting the process".

To finalise, I now encourage using objects such as personal belongings to a session where relevant, and have used x-rays, a wedding ring, a letter and even a garden path. I have named it 'The Energy Exchange Specialities Technique' to sit alongside 'The Energy Exchange Photo Techniques'. These techniques can be combined or used individually, and while they aren't suitable for all sessions, they offer another tool in the EFT tool box that you may wish to try.

Albert Einstein said that there is energy in everything and I believe these techniques may be a way of opening that locked or blocked energy when used in conjunction with EFT.

There are so many studies now about energy and objects that this exchange may not be as strange as it seems.

I would be delighted to hear from anyone that tries these techniques with your feedback or comments.

Marie Holliday
AAMET practitioner/trainer/trainer of trainers
Official representative of AAMET in Spain
Website: www.eftspain.com
Email