Top five EFT business tips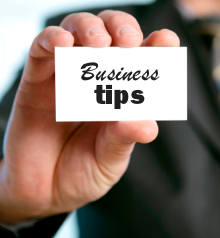 Jennifer Rahman has gathered some useful tips to help EFT practitioners make the most of their businesses.
by Jennifer Rahman
There is a huge difference between being 'interested' and being 'Interesting' and Gary Craig makes this distinction in his original DVDs.

When we meet a client for the first time, we have just one minute or less to make an impression, to build rapport, trust and open communication channels. Tall order but a reality! Being interested in your client also engages some NLP skills such as mirroring and linking into their modalities and sub-modalities. Being interested in your client inevitably puts the client at ease, becoming an active (not passive) participant in the process and success of the EFT session.

Being interesting on the other hand can often lead to the practitioner trying too hard: either providing more information on EFT than the client can handle; using too many metaphors to convey a message; or telling too many success stories that will soon bore the client. Scientific research shows that humans do have short attention spans and boring a client is one sure way of losing the business.
Psychological reversal; meridian pathways; acupressure; we know what it means and we often assume that the client does too! Not always the case, as I found out. It is important to explain the concepts in language that resonates with the client. There is no point trying to show off our intelligence if we lose the client in the process.

My advice: Keep it simple and jargon free!
When I first started, I offered free sessions to clients in an effort to gain confidence, practice my new skills and promote my business locally. But what I found was that clients lacked commitment (failing to keep appointments) because they had nothing to lose.

It was FREE!

Now, I offer only FREE consultations (not sessions) to entice potential clients. If business is slow, as it can sometimes be, then I offer sessions at discounted prices for a limited period only. I also have a note on their appointment card that states that a cancellation fee will be charged if appointments are cancelled at short notice. All appointments are now kept! The moral of this story is that, when a client makes a monetary investment in his/her healing and future then commitment, participation and value is a certainty. After all, they do have much to gain by keeping the appointment but also lots to lose if they don't. If this does not motivate them then nothing will.

The same goes for charities. When doing presentations for charities and other non-profit organisations, it is better to charge them a nominal fee for your time and travel expenses. This encourages them to put more effort into their publicity drive to promote your presentation instead of taking a laissez faire stance, with you doing all the work. Charities can then recoup their expenditure by charging an entrance fee. It is a great way to generate publicity for your business and be a fund raiser for the charity as well.
When you first start out, you can be easily tempted to invest loads of money in all singing, all dancing websites! I once came across a bright fuschia web page that made me want to reach for my sunglasses. And another that had a little leprechaun jumping up and down ... not that I have anything against dancing leprechauns or fuschia but these were life coaching and EFT websites! My point is: design a webpage that will appeal to the client and once again, keep it simple.

Another problem with many websites is – too much text! I know we want to tell the world what we do and how the client can benefit from engaging our professional services, but we often tell the client what we don't do and forget to focus our script on what we do!

Either that or we have paragraph upon paragraph trying to explain what EFT is (or isn't). Result – bored viewer and lost potential client. Your website visitors always want quick, easy to understand information about EFT and also succinct information about yourself, your success stories and client testimonials. This helps build initial trust in your skills and lets them know what you have to offer. They also want a webpage that is easy to navigate, without too many drop-down menus and linked sites.

And don't forget to invest in search engines and business directories! People won't know that your business exists, if they don't know where to look!
No, not pyramid schemes, but respectable affiliate programmes! With the world economy the way it is, it is getting difficult to rely on your business alone as a primary source of income. Take the easy route and sign up for respectable and well-known affiliate programmes like those of Margaret Lynch, Bob Proctor, The Tapping Solution, Dr Pat Carrington and others. Help promote their products and get a 40% to 50% commission. The products are proven, successful and easy to sell as many of the affiliate programmes also provide you with marketing scripts and useful tips on how to sell their products on the internet. Top sellers also get additional publicity via the promoter's website, an added bonus.

Jennifer Rahman
Level 2 Practitioner
LifeMaxx International
www.lifemaxxinternational.com
Email: