Integrative working and EFT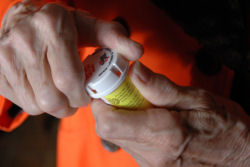 by Megan Smith
Megan Smith believes that EFT can be successfully integrated with conventional medical therapies when helping patients in pain.
You have a gentleman in his 60s sat in front of you complaining of muscle pains and saying he would like some EFT to help relieve this issue. As we take a history of this discomfort we would ask perhaps about many aspects. But do we ask about his medication? If we had asked this with the client we may find out that he is taking a statin. A statin is one of a group of cholesterol-lowering medications that is taken by many individuals in the UK who are over the age of retirement or have had any heart or circulation issues in the past. Statins appear in the top 10 medications prescribed in the UK.

We could quite easily have tapped away pains in muscles but my guess would be if we did that they may well recur in a few weeks time because it is actually the medication causing the pain. A side-effect of statin medications is pain in the large muscles of the legs and the arms. There are many reasons why it is better that you work integratively with the doctors over this issue. To actually go ahead and do EFT is perhaps not in the best interest of clients. Just by the EFT practitioner asking 'could that be the medicine?', that is enough to start the conversation with the client, empowering them, and ultimately brings the side effect to the attention of the client and their prescriber.

You don't have to be expert in this area. The trick is knowing where to look for the information. There are good support services available as well as training and individualised advice on medicines should you need it. Just having that question of 'could it be the medicines?' in the forefront of your mind can open up a whole new integrated way of working. If you have any suspicion that it could be the medicines, explain your suspicions to the client, but send them back to their GP or the hospital doctor to get it checked out. If we can remove the cause of the issue, if by working together we can change or modify the medication so that the side-effect is no longer experienced, is that getting to the core, as we look to get to the core issue using EFT?

Medication may be the core issue that we are seeking out. If for any reason the medication cannot be changed and you have to respect the prescriber's decision on this, then perhaps it is appropriate that we tap away the muscle pain that is going on for the 60-year-old client. But at least then we can do the best that we can for the client using techniques such as 'chasing the pain'.

So integrative working brings an added dimension to what we do as EFT practitioners and is something we can add into our practice. Medication is an area that doctors know and understand. If we can identify some common ground, it might offer a way that we can start to work with the doctors and they can work with us. Hopefully that brings respect and ultimately a better outcome for the patient.

Megan Smith
EFT practitioner (Adv), META medicine health coach, Matrix Reimprinting practitioner and practising clinical pharmacist and clinical psychiatric pharmacist.
Megan runs UK Medicines Advisory Service, putting holistic healthcare advisors at the forefront of integrative health solutions.
Visit www.ukmas.co.uk for more information.